Good morning.
I have a texture like this :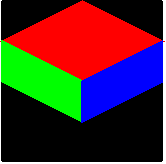 The black color is transparent and other colors are a picture.
I enable the alpha test and i use :
bear in mind that if your texture filter is set to one of the LINEAR or MIPMAP modes (eg GL_LINEAR_MIPMAP_LINEAR) then even if the top level texture map contains only 0.0 and 1.0, intermediate values will creep in during the filtering process
I suppose that i will have to find a workaround because this behaviour is conform to the spec of OpenGL.
So i ask you how should i do ?